Early spider orchid found at Dorset's Swanage sewage works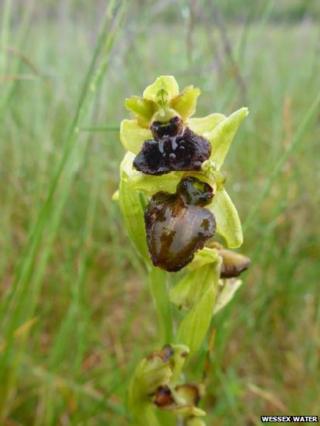 A rare orchid has been discovered at a Dorset sewage works.
The early spider orchid was found on a grass roof at Swanage sewage treatment works by ecologists from Wessex Water after staff changed their usual mowing process.
It is unclear how the protected species ended up taking root on the roof, but it is believed a seed may have blown there.
A spokesperson for Dorset Wildlife Trust described it as a "lovely find".
The plant is protected under Schedule 8 of the Wildlife and Countryside Act and it is illegal to uproot, cut, sell or destroy it.
Ellen McDouall, senior conservation ecologist at Wessex Water, said the limestone coastal cliffs around Swanage are one of only three UK strongholds for the species, the others being in Kent and Suffolk.
She said: "This roof has only existed for 10 years and the orchids can take that long to flower. We don't know how they got on the roof - whether seed was in the soil or blown in from nearby."
A spokesman for Dorset Wildlife Trust said: "This is a lovely find as the early spider orchid is nationally scarce, with around 75% of the population being found in Purbeck, and the rest along the south coast to Kent and Suffolk.
"They are so special to Dorset, that Dorset Wildlife Trust use it as part of our logo."