'Affair' vicar Rev Martin Howard banned from ministry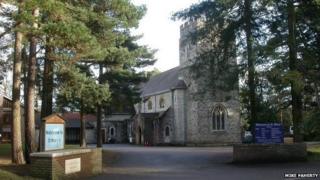 A married member of the clergy has resigned and been banned from ministry for five years amid claims he had an affair with a parishioner.
The Reverend Martin Howard served at St Mary's Church in Ferndown, Dorset.
In a statement, the Diocese of Salisbury said the decisions came after a complaint of adultery was upheld under church disciplinary measures.
Last year, Mr Howard spoke publically about the virtues of marriage in the Bournemouth Echo.
In February 2013, he was quoted in the newspaper as saying: "Society is much stronger when marriage is promoted, honoured and protected."
It came after a poster at St Mary's Church was condemned by some as being "anti-gay marriage", according to the newspaper.
The diocese said it was "providing pastoral support to Martin, his wife Liz and their children at a difficult time".