First UKIP councillor for Weymouth and Portland council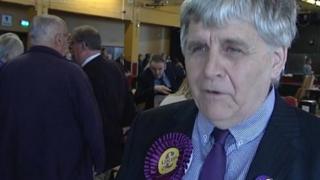 Cafe owner Francis Drake has become UKIP's first ever councillor on Weymouth and Portland council, after he won the seat from the Lib Dems.
The authority remained in no overall control but Labour gained three seats, making them the largest group with 15.
The Tories ended up with 11, the Lib Dems now have seven, UKIP has one, and there are two independents.
Elsewhere in Dorset, the Conservatives lost power of Purbeck District Council which is now in no overall control.
A third of the seats was up for grabs. The Tories now hold 12 of the 24, the Lib Dems have 11 and the last seat was held by an independent councillor.
'UKIP factor'
Voters also selected who is to represent the South West region in the European Parliament, with the results to be announced on Sunday.
In Weymouth, the Lib Dems also welcomed Councillor Ryan Hope back into the party after his suspension pending a criminal trial.
Mr Hope was cleared of child sex charges, including rape, earlier this month.
BBC Radio Solent's Tristan Pascoe said the UKIP factor was felt in Purbeck.
"In the Lytchett Matravers ward, just 28 votes separated the Conservative and Lib Dems, while the UKIP candidate polled 248 votes allowing the Lib Dems to gain the seat.
"It means independent councillor Nigel Dragon now holds the balance of power.
"None of the other seven seats changed hands but all those elected will be up again next year due to boundary changes."
Councillor Barry Quinn, deputy Conservative group leader, said his party had not necessarily lost power, even though they no longer held a majority.
"There is a not a lot that is contentious in the district. However it is a fact, in order to take any initiatives forward, it does now need an element of support from the other councillors," he added.