Planned Jurassic Coast dinosaur museum given charitable status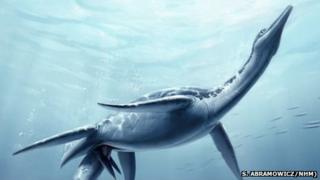 An underground dinosaur-themed museum planned for the Jurassic Coast in Dorset has gained charitable status.
'Jurassica' has been granted the status by the Charity Commission as a scientific and education resource.
The granting of charity status allows the proposed project to fund raise and apply for grants to finance its estimated £80m costs.
If it goes ahead, the attraction is expected to be completed by 2019 or 2020.
The charity said projections produced by Dorset County Council suggest 'Jurassica' will bring in £7m annually to Dorset and create 150 new jobs.
The semi-subterranean artificial cavern would be built in a 40m (132ft) deep limestone quarry in Portland.
Swimming plesiosaurs
Featuring a lid-like roof it will span about 100m, about a third the size of the Millennium Dome.
It will house fossils, interactive displays and robot swimming plesiosaurs.
The project has Sir David Attenborough as its patron and the Eden Project's Sir Tim Smit as its trustee.
The Jurassic coastline which covers a 95-mile stretch of cliffs between Dorset and East Devon is a World Heritage Site (WHS).
Covering three geological time periods: the Triassic, Jurassic and Cretaceous, it is one of eight in the world to be awarded WHS status by Unesco.