Weymouth ferry port funding plea to government fails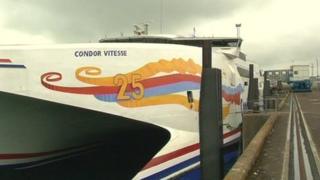 A delegation from Weymouth has failed to secure government funding to upgrade the town's ferry port.
Condor Ferries is considering buying a bigger vessel which would require a further £10m of harbour improvements.
But the council representatives and South Dorset MP Richard Drax were told by transport minister Stephen Hammond there was no funding available.
Mr Drax said the minister came up with suggestions which will be explored but discussions were "highly sensitive".
Condor Ferries resumed sailing from the port last summer after the council spent more than £3.4m on repairs.
Local businesses raised concerns about Condor moving elsewhere, which prompted the delegation to meet with Mr Hammond.
Condor's proposed ferry to sail to the Channel Islands could be accommodated by the existing facilities at Poole.
Repair work on the harbour wall was completed last year. Condor sailed from Poole for 17 months while the repair work was carried out.
Chief executive James Fulford said: "Introducing any new ship involves a range of legislative and infrastructure considerations and, as you would expect, we are working closely with all the interested parties, including Weymouth and Portland Borough Council, other harbour authorities and the States of Jersey and Guernsey regarding berthing arrangements."
Council resources director Jason Vaughan said: "The council is working hard to explore all options to secure the long-term future of Condor Ferries operations from Weymouth in order to protect local jobs and continue the historic links to the Channel Islands from the town."