Bees swarm around car at Bournemouth's Castlepoint centre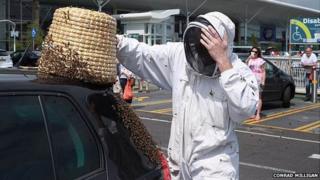 A beekeeper had to capture thousands of honey bees that had swarmed around a parked car at a Bournemouth shopping centre.
Shoppers outside Sainsbury's at Castlepoint saw the swarm cluster on the black car around midday.
Shopping centre manager Nick Staton said the beekeeper arrived fully dressed and "teased them into a basket with smoke".
It follows a similar bee swarm in London on Friday.
'Following the Queen'
Shopper Conrad Milligan, who photographed the incident, said: "It was during a quite busy period and fairly near to the entrance of the Sainsbury's, so the car was quickly cordoned off."
Mr Staton said some of the bees escaped capture and were still flying around, but that no-one had been stung.
He added the car's owner had been shopping in the supermarket when the bees arrived, and was advised to stayed parked until all the bees had gone.
The East Dorset Beekeepers' Association said a swarm was "a natural process for bees to expand their numbers".
It added: "They have laid a new Queen in their previous colony and the old Queen is accompanying her old bees to a new home."