Verwood farm's 64-football-pitch size solar park planned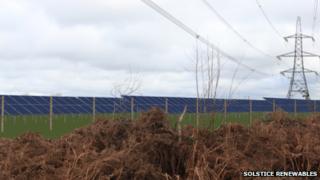 A farming family has agreed to host a solar park the size of 64 football pitches on their land in Dorset.
Plans for 81,400 panels at Manor Farm in Verwood have been submitted by Solstice Renewables, which claims the park could power around 6000 homes.
Landowner Douglas Dalton said income received would offset the money lost on the farm as a result of "extreme weather" in recent years.
A public consultation showed 74% of residents were in favour of the park.
Bat boxes
The Wiltshire-based solar energy firm would use 113 acres (45.7 hectares) of land on Manor Farm for the 20.4 megawatt park.
Mr Dalton said: "It's poor quality land anyway, and it will continue to be used for agriculture - it will be grazed by sheep in the winter and will become a haven for wildlife in the summer.
"Like many farmers, we've suffered from the extreme weather of the last couple of years, so the income we get from the solar park will help spread our risks."
Some residents flagged up issues about the proposed park's proximity to an existing solar park nearby at Homeland Farm, Three Legged Cross.
Solstice Renewables director Giovanni Maruca said the park would have "a minimal visual impact on the area".
The firm has also agreed to provide £20,000 a year to a community benefit fund.
It would also donate £4,000 a year to two local schools and set up a programme of "ecological improvement", including installing bat boxes and sowing wild flowers and grasses for bees, birds and butterflies.
Residents have until 4 June to submit comments on the East Dorset Council Planning Portal website.