Piddlehinton Gypsy site CCTV 'infringement of privacy'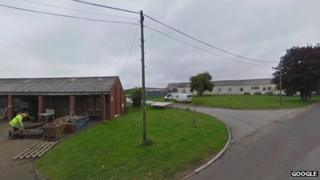 Plans for 24-hour security at an approved temporary traveller site have been branded an "infringement of privacy" by the Gypsy Council.
Plans for the camp at Piddlehinton were agreed by Dorset County Council on Friday.
A condition of the approval is that security guards and CCTV cameras with number plate recognition are provided round the clock.
The county council said the measures would not be intrusive.
'Open prison'
Joseph G Jones, from the Gypsy Council, said they would deter travellers from using the site.
"It sounds like some sort of open prison where you'll be logged and monitored by police every time you come and go," he said. "Are they inferring there'll be criminal behaviour?"
Dave Ayre, head of Gypsy services at Dorset County Council, said the "reassurance measure" was similar to that used annually at the Great Dorset Steam Fair traveller site in Tarrant Hinton.
The Piddlehinton site, next to Enterprise Business Park, was used as a temporary camp during the 2012 Olympics.
Mr Ayre said a "fear" of local residents and businesses was an increase in crime and fly-tipping, but he added there had been no evidence of this when the site operated during the Games.
He said the security cameras, one at each entrance to the business park, would not point onto the traveller site.
He said they would also monitor the business staff, customers and anyone else entering the park.