Former Dorset fire chair and county council leader David Fox dies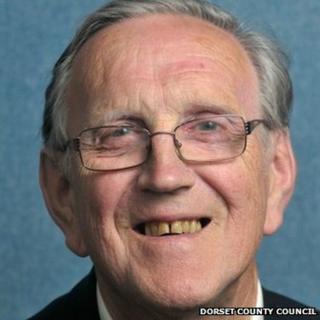 Tributes have been paid to former Dorset Fire Authority chair and Dorset County Council leader David Fox who has died.
Mr Fox, 79, worked for the fire authority for more than 30 years and was a county councillor for 38 years.
The fire service said the flag at its headquarters was flying at half-mast following Mr Fox's death on Tuesday.
Chief fire officer Darran Gunter described him as "a passionate and caring man".
Mr Fox was a county councillor from 1975 to 2013, and a Christchurch Borough Councillor from 1983 to 2011.
Current county council leader Spencer Flowers described him as "a man of honesty and integrity in everything he did".
'Hugely committed'
He served as Christchurch mayor twice, was made an honorary freeman of the borough in 2008, and in 1992 was made OBE for political and public services.
Mr Gunter said he was "extremely saddened" by Mr Fox's death and described him as "hugely committed to the fire and rescue community".
Mr Fox is survived by his wife and former mayor of Christchurch, Norma, and two sons, one of whom is Christchurch Borough Councillor Tavis Fox.