Lewis Gill: Death punch man's jail term upheld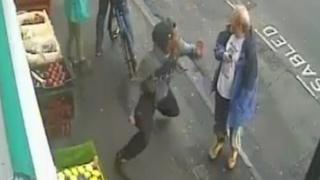 A four-year jail sentence given to a man who killed a vulnerable man with a single punch has been upheld.
Court of Appeal judges ruled the sentence given to Lewis Gill, 21, of Sutton, south London, was not "unduly lenient".
Andrew Young, 40, who had Asperger's syndrome, died after being struck by Gill in Bournemouth in November.
Gill's jail term for manslaughter, imposed in February, had been referred by the Attorney General Dominic Grieve.
He argued it did not properly reflect the gravity of what Gill did but three judges in London decided the sentence should stand.
Lord Justice Treacy, announcing the decision of the court, said: "We have concluded that the sentence imposed below is not one which can be described as unduly lenient.
"Indeed, it seems to us that the sentence imposed was one within the reasonable range available to the trial judge, properly weighing the relevant factors and the guidance of this court."
Mr Young was punched once by Gill outside a Tesco Express store in Charminster Road after he challenged a cyclist who was riding his bike on the pavement.
CCTV images of the assault showed Mr Young talking to the cyclist before Gill - an acquaintance of the cyclist - arrived at the scene.
The cyclist then rode off and Gill appeared to turn to follow him, before suddenly lunging towards Mr Young.
Graphic design student Gill, described as a "powerfully built young man" who had previously trained as a boxer, punched Mr Young in the face, causing him to fall backwards, hitting his head.
Mr Young suffered a serious head injury and died later in Southampton Hospital.
Gill had an extra six months added to his sentence in February after admitting an unrelated charge of handling stolen goods and breaching a suspended sentence order.