First cygnet of 2014 hatches at Abbotsbury Swannery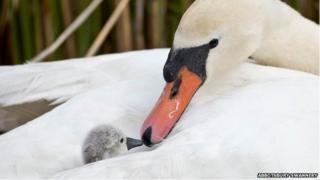 The first cygnet of 2014 has arrived at a swannery in Dorset where birds have been breeding for 1,000 years.
More than 500 eggs have been laid at Abbotsbury Swannery and swanherds are expecting at least 400 cygnets to eventually take to the water.
The rest of them are expected to hatch over the next six weeks.
Local tradition says Benedictine monks, who ran the swannery between AD1000 and the 1540s, believed the first cygnet signalled the first day of summer.
Banquet birds
"We know quite closely when the first cygnet is likely to hatch... the females can become restless," deputy swanherd Steve Groves said.
"And sometimes you can hear the baby cheeping from inside the eggshell."
Records of mute swans at the Chesil Beach colony have been kept since the late 14th Century.
The monks began farming the birds in the 11th Century for their banquets.
It is thought that Abbotsbury Swannery, which has up to 1,000 free-flying swans, is the only managed colony of nesting mute swans.
Visitors can walk through the colony, see cygnets hatching and participate in mass feedings.
Female swans, called pens, lay an average of six eggs each year, up to a maximum of 13 (the record for Abbotsbury is 12).