Canoeists saved off Old Harry Rocks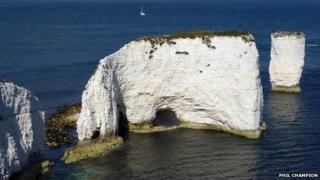 Twelve canoeists were "fortunate" to have been rescued by a passing boat, a coastguard has said.
Three lightweight boats were "having problems in difficult weather conditions" off Old Harry Rocks on the Isle of Purbeck in Dorset on Saturday.
Six people were also pitched into the cold waters when a canoe capsized.
Ros Evans, the watch manager at Portland Coastguard, said the canoeists could not cope with the current around the chalk formations.
She added: "The twelve canoeists were out in difficult weather conditions in easterly winds off Old Harry Rocks, which has a notorious race and with the sea temperature still at winter levels.
"They were dressed only in shorts and t-shirts. They were wearing buoyancy aids but appeared to have no other safety gear, no rescue equipment and most worryingly, no way of raising the alarm.
"They were fortunate that the Skua [dive boat] happened to be in the vicinity and was able to offer assistance."
The boat broadcast a mayday message and was soon joined by two other local boats, and two Swanage RNLI lifeboats.
The canoeists were subsequently taken back to Knoll Beach, Studland, without injury.
Old Harry Rocks forms part of the Jurassic Coast, a Unesco World Heritage Site.