Weymouth Lib Dem councillor Ryan Hope cleared of child sex charges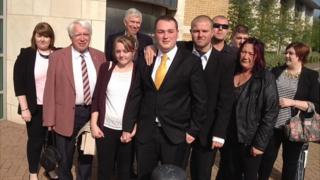 A Dorset councillor has been acquitted of eight serious sexual offences against a child, including rape.
The family of Weymouth and Portland councillor Ryan Hope, 22, wept in the public benches as he was cleared of all charges at Bournemouth Crown Court.
The jury during the five-day trial heard the charges related to one male over a period of years when he was aged between nine and 16.
Speaking afterwards Mr Hope said: "I'm just glad this nightmare is over."
'Truth is out'
He added: "It's been a long time. I've been a victim of assault and bullying because of this.
"I'm just glad the truth has come out and I can get on with my life."
The jury of six men and six women reached a unanimous verdict of not guilty to all eight charges after deliberating for 40 minutes.
Mr Hope had been suspended from the Liberal Democrat party in January.
Mr Hope said: "I fully intend to rejoin the Liberal Democrats and look forward to working alongside my colleagues again."
He also spoke of the support he received from friends who acted as character witnesses in court.
A former girlfriend of Mr Hope, Shannon Cox, from Weymouth, had described him as a "kind and caring person, loyal, who always put other people before himself" and that the allegations were out of character.
Another witness, the chair of Westham Community Group, Chris Edwards, told the court Mr Hope helped organise events for local teenagers, starting a petition to improve facilities at a recreation ground and developing a community garden.
Mr Hope said: "It shows what fantastic friends I've got."