Borough of Poole Council fake scam website attracts thousands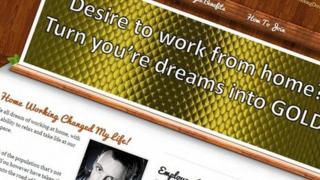 Thousands of people have visited a fake website set up by a Dorset council to warn of the dangers of home working scams.
Borough of Poole's environmental and consumer protection services department said about 3,000 people had visited its fake site in a month.
Almost 2,500 were prepared to click for more details or pay a £10 upfront fee.
Instead they were taken to a warning page offering advice on how to protect themselves against similar real scams.
'Quick and cheap'
Councillor Xena Dion said scams were becoming increasingly more sophisticated, meaning not just elderly and vulnerable people were at risk.
"Our website was very professional-looking but quick and cheap to set up and any of us could be at risk if we don't keep constantly alert against fraud," she said.
She said modern technology made it possible for scammers to steal from consumers and businesses without them being in the same county, "leaving the victim out of pocket and likely to be targeted again in the future".
Trading Standards has warned people to be wary of any home working offer and not to give out banking details to a potential employer during the application phase or on a CV.
Mass-marketing scams are estimated to cost the UK economy £3.5bn annually, according to the National Fraud Authority's annual fraud indicator 2013.