Portland Coastguard helicopter base petition goes to Number 10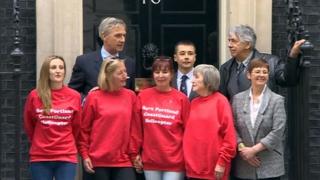 A petition signed by more than 100,000 people calling for the Portland Coastguard helicopter base to be saved, has been handed in to Number 10.
The Dorset site is expected to close in 2017 as part of a move which will see private helicopters operating from ten bases along the UK coastline.
The government has said modern helicopters operating from fewer bases could provide a more reliable service.
But campaigners believe that lives may be lost if the facility is shut.
The nearest bases to Portland will be Lee-on-Solent in Hampshire and Newquay in Cornwall.
South Dorset MP Richard Drax, who has been part of the two-year campaign, said he was not hopeful that it would be saved but added "we can't give up as the reason to keep it is so strong - we will fight for as long as we possibly can".
Search and rescue operations are currently provided by the Ministry of Defence (MoD), which uses Sea King helicopters from eight military bases, and the Maritime & Coastguard Agency (MCA), which operates from four civilian bases.
The MCA said: "The decision to move to a ten base 24-hour service was based on extensive modelling that shows that at least as good a level of service can be provided from ten bases using newer state-of-the-art helicopters that are faster," it said.