Poole care home closures announced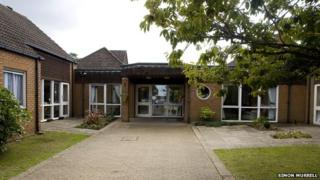 A Dorset authority says it will save £750,000 by changing its dementia care services, including closing one of its homes.
Mitchell House Residential Home in Poole, which has 80 staff and 45 residents, will close in the summer.
Kevin Judd, of Unison's Poole branch, said the news "came as a shock".
A number of staff and residents at the site will be transferred to The Potteries care home, but Borough of Poole could not specify how many.
It will also end the lease of Garland Road Day Centre, with staff and services moving to Poole Day Centre.
It said the changes will save it an average of £107,000 per year until 2021.
A Care UK spokeswoman said: "Naturally, the team [at Mitchell House] were upset and had many questions.
"At this stage, we can't say precisely what will happen to team members once the home closes later this year.
"We will start a formal consultation process involving unions and employee representatives very soon."
'Too expensive'
Mr Judd said: "There will be potential redundancies if they can't redeploy the staff elsewhere, and we'll try to make sure they're safeguarded as much as possible.
"Mitchell House provides a high quality dementia care service and we have no idea how badly this might affect the individuals concerned."
The 30-year-old Mitchell House is said to be too expensive to modernise.
Andrew Knight, Care UK's managing director for residential care, said: "Sadly the building is becoming harder and harder to maintain and doesn't provide the right environment to deliver the nursing and dementia care that so many increasingly frail care home residents need these days."
Karen Rampton, cabinet portfolio holder for health and well-being at the council, added: "Our priority is to work with Care UK to ensure residents at Mitchell House are fully informed about the choices available to them and help them move as easily as possible to new homes."
The Potteries in York Road is Care UK's new home and opened in the autumn.