Paedophile's images of abuse victim to be erased after police U-turn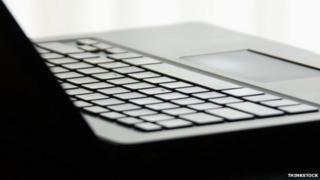 Dorset Police are to delete images of an abuse victim from a paedophile's laptop computer after previously saying the move was "unlawful".
The offender, a family member, was jailed in 2013 for nine years after admitting a string of sex offences, including assaulting a child under 13.
He had formally requested a laptop and a mobile telephone be handed back.
The force said following legal advice it had decided deleting the images was "the right thing to do".
Earlier this month, Dorset Police said they could not delete the family pictures as they were not legally classified as indecent or prohibited.
As a result, the offender, who is in his 50s but cannot be named to protect the identity of his victim, would have had access to photos of the girl and her family on his release from jail.
'Common sense'
Det Insp Steve Symms said: "We have been exploring all of the options available to us to refuse the return of the images.
"We have decided to delete the images from the laptop and other equipment before returning these items to the prison, to be held until the offender's release. The legislation hasn't changed, however, following legal advice, the force is confident that taking this course of action is the right thing to do."
The county's Police and Crime Commissioner, Martin Underhill, set up an e-petition to lobby to change the "fundamental error" in the law.
He said: "I am pleased to hear that common sense has prevailed in this case. Both the chief constable and I share the view that victims must be put first."
Human Rights organisation Liberty argued that the return of the computer and mobile would breach articles three and eight of the European Convention on Human Rights, which protect against inhuman treatment and invasion of privacy, respectively.
In a letter to the police, Liberty had said the prospect of having the photos of the victim in swimwear and leotards returned to the abuser was causing the family "a significant amount of distress".
The victim's mother said she was "so relieved" at the decision which had "traumatised" her family.
"The retention of these photos would have had a lifelong impact and impeded my children's already difficult road to recovery.
"We are so relieved this part of our nightmare is over and that we don't have to go through long and arduous court proceedings," she added.
Rosie Brighouse, legal officer for Liberty, said the police had "seen sense"
"Yet again the vital protections of our Human Rights Act come to the aid of innocent victims, protecting their dignity and preventing unnecessary suffering," she added.