RNLI scraps plans for Weymouth balloon race over wildlife concerns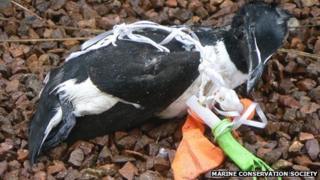 A charity balloon race has been abandoned over concerns about its possible effect on wildlife.
The RNLI said it had cancelled the release of 1,000 biodegradable balloons from Weymouth Lifeboat Station after supporters called for it to be stopped.
The charity said it would "not be supporting or running any balloon events now or in the future".
The Marine Conservation Society and Blue Planet Society were among those calling for the cancellation.
'Mistaken for food'
The society said because of the threat posed to wildlife by balloons, releases have been banned by over 20 local authorities in the UK.
The Marine Conservation Society said: "Balloons are mistaken for food by many species, they can block digestive systems and cause animals to starve.
"We do not want to stop people having fun - we just want to protect our vulnerable marine species and reduce litter."
Louise Barth, RNLI fundraising and communications manager, said: "It was organised in good faith, but we are not environmental experts.
"We would be horrified if something we did damaged the environment and wildlife."
The event, planned for 5 May is expected to be replaced with another event or a virtual balloon race on the internet.