Weymouth business leaders in Condor Ferries plea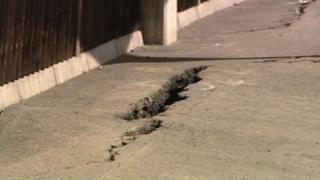 Business leaders have urged Condor Ferries and council bosses to work together to ensure the ferry operator stays in Weymouth.
The company, which provides a link to the Channel Islands among other destinations, wants to buy a new boat.
However, there are fears it will be too big for the port and Condor may move elsewhere.
Condor resumed Weymouth sailings last July, following 18 months of repairs to the harbour wall.
Julie Cleaver, Weymouth and Portland Chamber of Commerce, said: "They [traders] thought that it was job done and that they were here again for the foreseeable future.
"So, I'm hoping that Condor and the local authorities will be able to work together to be able to work it out and find a suitable solution for all."
Capt Fran Collins, ports and guests services director at Condor Ferries, said the company was "considering options" for a new vessel.
"[We] are engaging in discussions with all ports across our network of routes between the UK, Channel Islands and France," she said.
Capt Collins confirmed Condor's current schedule enables passengers to book crossings until 24 March next year.