Apple 'Swirl' sculpture for Didcot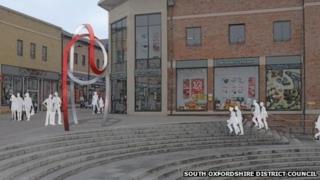 A new sculpture inspired by Oxfordshire apple growing traditions is being installed in a town centre development.
The 6m (20ft) high "Swirl", a stainless steel structure with a mirror finish, which is based on a peeled apple, is being erected in Didcot town centre.
Artist Maria Rosa Kramer said it would add to the "distinctiveness" of the shopping area.
The sculpture was commissioned by South Oxfordshire District Council and funded by a town centre developer.
It will be lowered by a crane on to the top of the Orchard Centre amphitheatre steps.
Ms Kramer added: "I love Didcot and it's a huge privilege for me that this sculpture is coming here and hopefully enhancing this wonderful town."
Bill Service, cabinet member for leisure at the council, said: "Having a centre piece public art like this helps to give a place identity and make it really stand out from the other town centres around the county and beyond."
The "Swirl" was originally scheduled for installation in March, but assembly took "longer than expected".