Cushion starfish found for first time in Kimmeridge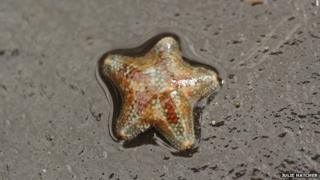 A type of starfish has been discovered living in a rock pool at Kimmeridge Bay, Dorset, for the first time.
The tiny creature was found during a low tide beach exploration by Dorset Wildlife Trust.
Julie Hatcher, of the trust, said: "This delicate cushion starfish has never been recorded this far east in the UK."
Native to Portugal and the Mediterranean, it uses tiny feet to glide across the seabed.
The starfish has five equal length arms and is about 40mm in diameter.
Numbers are predicted to rise due to climate change.
In November the site between Broadbench to Kimmeridge Bay failed to make the government's list of Marine Conservation Zones (MCZ).
In January rare barnacle species were found among Dorset storm debris at Chesil Beach.
According to the trust, it was the first time the crustaceans, which are native to North America, the Caribbean and the Gulf of Mexico, had been recorded on land in the UK.