MP Robert Syms' sex doll parties noise comments criticised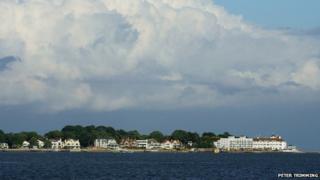 A firm whose clients are accused of hosting raucous house parties has criticised an MP for not "encouraging the success of a local business".
Robert Syms has said Poole residents are fed up with the events, often hen and stag parties which could feature blow-up sex dolls and naked butlers.
Homes in Canford Cliffs and Sandbanks are rented out by Deluxe Holiday Homes.
It said visitors to its properties "spend a considerable amount of money in other local businesses".
'Prayers for rain'
Other firms also rent out homes in the exclusive area of Dorset, charging up to £1,250 for a weekend night.
Residents are calling for an end to the house parties, which they say involve screaming, shouting and "alcohol-fuelled behaviour" and have made their lives a "misery".
Mr Syms, Conservative MP for Poole, said: "They pray for rain because people stay inside rather than stay outside; they know there's going to be anti-social behaviour."
Since 2011, Borough of Poole Council said it had received 16 complaints from residents in relation to noise nuisance from six such homes.
In a statement, Deluxe Holiday Homes said it was "just a small local entrepreneur company trying to follow basic Conservative political ideals".
"Deluxe Holiday Homes do not understand how their Westminster Conservative MP, that their representative voted for, could be arguing against these traditional Conservative principles of entrepreneurship," the company said.
However, the firm said it did not condone the behaviour referred to by Mr Syms and said it took its responsibility to neighbours very seriously.
Mr Syms, who has yet to respond to the firm's comments, met Secretary of State for Communities and Local Government Eric Pickles on Tuesday to ask if there was legislation the council could use to stop the parties.