Sheep at Toller Porcorum farm gives birth to sextuplets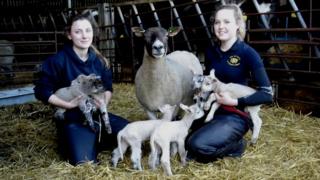 A sheep at a family-run Dorset farm has surprised its owners by giving birth to six healthy lambs.
The sextuplets were born last week at Colesmoor Farm in Toller Porcorum.
Owners Rorie and Rachael Geddes said it was the first time six lambs born to the same ewe at the farm had survived.
"Although we have lots of triplets and quadruplets and the occasional quintuplet from our 300 ewes, we have never heard of a commercial ewe having six good lambs," Mr Geddes said.
He said a scan had shown the five-year ewe to have five lambs, so it had been a "nice surprise" when a sixth was born.
"She will probably rear three of them and the other three will join our other orphan lambs," he said.
The 150-acre farm near Dorchester also has cattle.