Hengistbury Head land train talks held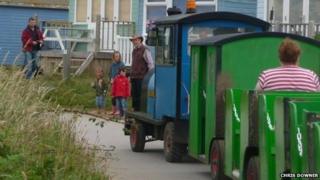 The owner of a land train in Dorset which was due to be replaced by a council-owned one is working with the authority to "keep the service running".
Joyce Faris has been running the train at Hengistbury Head since the death of her husband, who launched it in 1969.
Bournemouth Borough Council, which owns the site, has said Mrs Faris's contract has expired and will not be renewed.
A petition against the plans has gained more than 21,000 signatures.
'Retain nostalgia'
Mrs Faris says visitors who have been using the service since childhood are "horrified" the council wants to replace it.
The council is planning to provide a wheelchair-accessible service, linked with its seafront trains to Alum Chine.
However, following a meeting with Mrs Faris, council leader John Beesley said: "Both parties were keen to work together to find a solution beyond the autumn which meets current operating standards and the council's aspirations for this environmentally sensitive area, but to continue to retain the nostalgia people hold for the service.
"Our initial discussions went positively and we will be meeting again shortly to progress details."
He added the authority had also met with "other interested parties and users" and said the service would continue to operate as usual in the meantime.
Mrs Faris said: "We had a good meeting with the council to talk about how we can work with them to keep the service running."
She added: "We are keen to show how we can meet the necessary requirements that would hopefully enable us to continue."