Boscombe's 'Tardis' police box arrives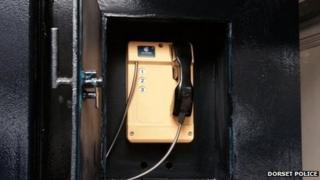 A police box, similar to that made famous in the television series Doctor Who, has been positioned in a town.
The steel-framed Tardis-like box was craned into Boscombe's precinct on Christchurch Road, Dorset, ahead of its official opening.
The project, which has attracted attention from Doctor Who fans, was funded by donations from local firms.
Dorset Police said it would act as "a highly-visible policing footprint", as well as a tourist attraction.
'Reducing crime'
The force said it was one of only two operational boxes in the country - the other is in London.
Insp Chris Weeks said the force was looking forward to "the positive impact it is going to have in relation to public engagement and reducing crime".
"We will endeavour to have a member of staff with the police box as much as is operationally possible during the trading hours in the precinct," he added.
A yellow telephone is attached to the box which members of the public can use to contact Dorset Police when it is not staffed by police and community support officers.
Final fittings will now be carried out ahead of the box's official opening by Bournemouth East MP Tobias Ellwood at 11:30 on Tuesday.
Police boxes were first used in the USA, with the first UK box being opened in Glasgow in 1891.
By 1953 there were 685 police boxes on the streets of London.
The boxes were later phased out but a new police box was installed by the Metropolitan Police outside Earls Court Tube station in 1996.