Dorset cash machine stolen in post office ram raid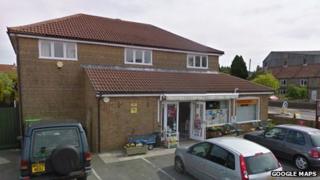 Police are searching for thieves who ram raided a village post office in Dorset and stole a cash machine.
A vehicle smashed into the front of Mosterton post office in Orchard Way and thieves took the freestanding ATM containing an unknown quantity of cash.
The raid was reported at 04:20 GMT but police are appealing for anyone who heard any noise from 21:00 on Friday.
Dorset Police said carrying the heavy machine would most likely require more than one person.
Det Con Tom Isaac said: "I believe that the vehicle used to force entry will not only have caused a great deal of noise, but will also have sustained damage.
"Mosterton is a quiet place and it's quite possible that someone will have noticed a disturbance of some sort while this burglary took place.
"It is also possible that someone saw a vehicle - likely with front end damage - speeding away from the area."