Fishermen's storm compensation criticised by Dorset MP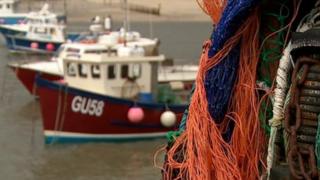 An MP is calling on Defra to do more to help Dorset fishermen get back to work after the damage of the winter storms.
Fishermen should be able to get up to 60% of the cost of replacing lost or damaged equipment from an EU fund.
However, claims for lost or damaged kit can only be made if fishing boats were registered more than five years ago.
South Dorset MP Richard Drax said: "I'd like to see Defra take a lead and and get it sorted fast - it's a bureaucratic mess."
Claims for compensation can also take up to 10 weeks to implement, Mr Drax said, which is leaving the fishermen in "dire straits."
Some were unable to go to sea off the Dorset coast for almost two months during the winter storms.
Mr Drax said: "If you get a loan and buy the equipment yourself in order to get back to work, the European Fisheries Fund will not pay for it. You just have to wait, thereby losing even more income."
Defra said it was doing everything it could to help the fishermen.
Through the European Fisheries Fund about £11m is available to help fishermen whose gear was damaged in the storms.