Weymouth storm-damaged sea defences repaired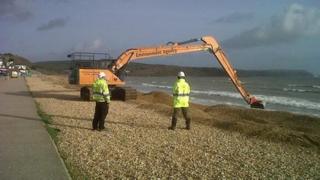 Sea defences east of Weymouth which were washed away by stormy seas during January and February have been rebuilt.
Limestone boulders weighing up to six tonnes have been buried along a 350m stretch of Preston beach and 4,000 tonnes of rock put under the shingle.
The Environment Agency said the repairs were vital to avoid the sea wall being breached or being overtopped by waves.
The agency said the work would safeguard the A353 and 30 properties at Lodmoor and Overcombe.
During the storms the large amount of shingle lost from the beach meant waves were able to come over the sea wall.
The road had to be closed to avoid risk to life from waves hitting vehicles.