Omar Benguit challenges murder conviction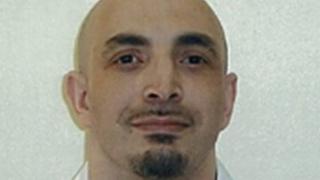 A man who was jailed after being convicted of stabbing a Korean student to death may not have committed the crime, the Court of Appeal has heard.
Omar Benguit, 41, of Bournemouth, Dorset, was jailed in January 2005 for the murder of Jong-Ok Shin in 2002.
He appeared at the appeal court via a video link to challenge his conviction, which includes pinning the killing on "hair-in-hand" murderer Danilo Restivo.
The judges reserved their judgment on the appeal until a later date.
'Similar killing methods'
Benguit's barrister Rag Chand told Lady Justice Rafferty, Mr Justice Cranston and Mr Justice Stewart that Restivo was an "alternative suspect".
He is currently in prison for the murder of Bournemouth mother-of-two Heather Barnett in 2002, and 16-year-old Elisa Claps in Potenza, Italy in 1993.
Restivo lived a few streets away from where 26-year-old Miss Shin was murdered, Mr Chand said.
He told the court all three murders were committed on the 12th day of the month, all three women were attacked from behind, a knife was used in each case and human hair was found on or near each body.
Mr Chand also argued a key witness who gave evidence against Benguit later changed her testimony, making her evidence unreliable.
The Crown Prosecution Service has insisted Benguit's conviction is safe.
Prosecutor Nigel Lickley QC said "distinct features" that marked the "killing style" of Restivo were not present in Miss Shin's murder.
He told the court Restivo was not a viable suspect and disputed the relevance of hair found near Jong-Ok Shin's body.
He also said the key witness, who cannot be identified for legal reasons, was "credible and reliable".