Temporary Poole traveller sites rejected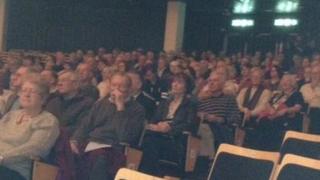 Plans for two temporary sites for Gypsies and travellers in Dorset have been rejected by the council's planning committee.
The sites at Marshes End in Creekmoor and Broadstone Way in Oakdale, Poole, had been recommended for approval.
But hundreds of residents and a number of councillors objected to the plans. The Gypsy Council also said both were unsuitable.
About 200 people attended the meeting at Poole's Lighthouse theatre.
At the moment there are no temporary stopping places in Poole.
The council had said the 12-pitch site, off Safety Drive in Creekmoor, and the six-pitch one near the B&Q car park in Oakdale would be a way of meeting the needs of both residents and travellers as "a number of unauthorised encampments each year" caused "public concern".
'Methane contamination'
After a heated debate with several interruptions from concerned residents, the committee voted against both plans.
The Gypsy Council told the meeting that travellers have said they would not use the Creekmoor site if approved because of the "known threat of methane contamination" and risk of flooding.
It said the other site was too close to a very busy road.
Pete Polowski, committee chairman, said he could not support the Creekmoor application as it was at such a "gateway location" to the town and added that he had a number of policy concerns.
The council said it was now "back to square one" in the search for suitable sites.