Charlotte Furness-Smith cave death: Family questions rescue 'delay'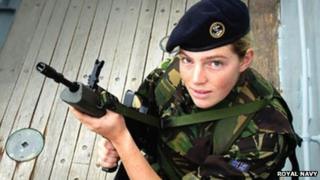 The family of a former Royal Navy reservist who died in a sea cave has questioned why it took more than an hour before a rescue attempt was made.
Charlotte, 30, and brother Alex Furness-Smith had been coasteering when they became trapped at Durlston, near Swanage, Dorset, in November last year.
He managed to escape and get help but his sister could not be reached.
Her death was ruled as misadventure but her family said the hearing failed to hear from three "key" witnesses.
The family's request for the inquest to be adjourned on these grounds was declined.
The witnesses included a mountaineer who watched the events unfold, while a statement from another bystander was read out rather than them being present at the hearing.
A third unnamed witness was unable to attend.
In a statement, the family added: "There is sufficient evidence that there was a lack of leadership on that difficult and challenging afternoon and we do not think it is unreasonable for us to try to ascertain why over an hour was allowed to lapse before a rescue attempt was made."
Queen's Commendation
Mark Rodaway, Portland maritime rescue coordination centre manager, said he was confident rescuers did all they could to save Ms Furness-Smith.
"This was a complex rescue, with winds gusting up to 60mph, horrendous sea conditions combined with high tide and limited access to the cave," he said.
"This was proven when one of our coastguard rescue officers risked his own life when attempting to abseil down a narrow blowhole."
Ms Furness-Smith, known as "Buffy" to her friends, was a maths teacher at Bristol Free School and had also appeared on Royal Navy posters during her time as a reservist.
On Tuesday, Mr Furness-Smith told the inquest the pair had intended to go kitesurfing but changed their plans due to the weather.
Bournemouth Coroner's Court heard how he and his sister had been swimming and climbing along the cliff face - an activity known as coasteering - when the weather deteriorated.
Winds of up to 60mph and waves of 3ft (1m) pushed them into Tilly Whim cave, a sea cave at the old stone quarries at Durlston.
Inside the cave it was pitch black and they were being tossed upside down by the waves, Mr Furness-Smith told the hearing.
After several failed attempts, he managed to escape and raise the alarm.
A coastguard helicopter arrived within eight minutes and he was winched to safety.
Paramedic winchman Adrian Rogers was then lowered to a blowhole at the top of the cave from where he spoke to Ms Furness-Smith still trapped inside.
He was unable to lift her out and a specialist rescue team was called.
When they got inside the cave they discovered Ms Furness-Smith's lifeless body lying face down in the water.
They were not able to recover the body due to the conditions and subsequent searches failed to find it.
At the end of the inquest, coroner Sheriff Payne recommended volunteer coastguard Ian Bulger for a Queen's Commendation for Bravery.
He was winched through the blowhole as part of the rescue attempt.