Dorset cave death siblings 'changed plans'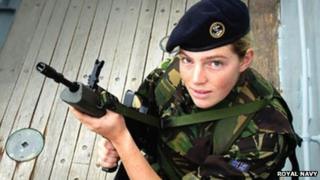 The brother of a woman who died in a sea cave in Dorset has told an inquest that they were going kitesurfing but changed their plans due to the weather.
Charlotte, 30, and Alex Furness-Smith had been coasteering when they became trapped at Durlston, near Swanage, on 2 November last year.
Mr Furness-Smith, 31, managed to get out and went to find help.
By the time rescuers managed to get to his sister she had died. Her body has never been found.
Ms Furness-Smith, known as "Buffy" to her friends, was a former Royal Navy reservist and a maths teacher at Bristol Free School.
The inquest at Bournemouth Coroner's Court heard how the pair had been climbing and swimming along the cliff face - an activity known as coasteering - when the weather deteriorated even more.
Blowhole conversation
Winds of 35mph and waves of 3ft (1m) pushed them into Tilly Whim cave, a sea cave at the old stone quarries at Durlston.
Inside the cave it was pitch black and they were being tossed upside down by the waves, Mr Furness-Smith told the hearing.
After several failed attempts he managed to escape and raised the alarm.
A coastguard helicopter arrived within eight minutes and he was winched to safety.
Paramedic winchman Adrian Rogers was then lowered to a blowhole at the top of the cave from where he spoke to Ms Furness-Smith still trapped inside.
He said he called to her: "Are you ok? Can you hear me?"
She replied: "Yes."
Mr Rogers was unable to lift her out of the blowhole and a specialist rescue team was called.
When they got inside the cave they discovered Ms Furness-Smith's lifeless body lying face down in the water.
They were not able to recover the body and subsequent searches failed to find it.
The inquest continues.