Poole paramedic Dai Rees dies on Maldives charity mission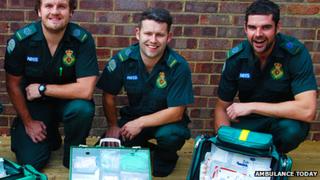 A British paramedic has died in the Maldives after travelling there to help provide emergency response training.
Dai Rees, 30, was killed in a diving accident on Sunday, South Western Ambulance Service NHS Trust said.
He had set up the Maldivian Sihhath Initiative in partnership with the trust after finding out islanders barely had any first aid provision.
Trust chief executive Ken Wenman said Mr Rees was "a well liked and respected member of staff".
Mr Rees, originally from Wales but living in Poole, had set up the initiative with paramedics from Bournemouth and Wimborne.
It provided training and equipment to five of the most populated islands across the Maldivian archipelago.
The trust donated equipment to the initiative.