Doctor Who fans excited by Boscombe 'Tardis' police box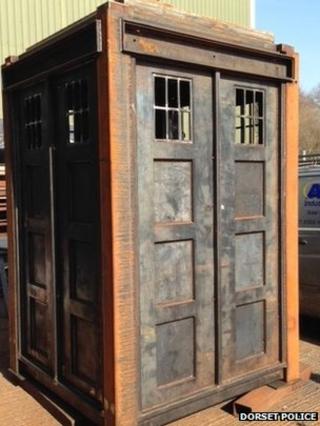 Doctor Who fans are getting excited about a Tardis-style police box due to open this Spring in Boscombe, Dorset.
The idea is for a more visible police presence to tackle crime, but a TV show fan site said the box's "celebrity status" would outweigh that service.
It is expected to be the only such one operating outside London after England's boxes were phased out in the late 1960s.
The time-travelling police box is one of the show's most iconic features.
'Yellow phone'
Doctor Who Online editor Sebastian Brook, who used to live in Bournemouth, said it was "the visual image of the police box that connected several generations" of fans.
He said the news site had received many emails from "excited" people keen to visit the police box in the Bournemouth suburb, and so it had "been following the progress quite closely".
The box for the precinct on Christchurch Road has been funded by donations from local companies.
Dorset Police said the 1920s-design steel box would act as "a highly-visible policing footprint", but was also designed to be a tourist attraction.
Police boxes were first used in the USA, with the first UK box being opened in Glasgow in 1891.
By 1953 there were 685 police boxes on the streets of London. Police boxes were phased out, but a new police box was installed by the Metropolitan Police outside Earls Court Tube station in 1996.