Witchampton biplane crash investigated by Dorset Police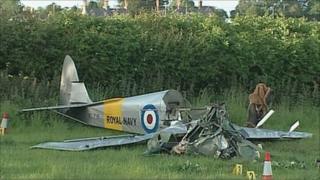 A criminal investigation has been started into the 2011 light aircraft crash in which a man died.
Dorset Police confirmed it was investigating the circumstances that led to the crash of the Tiger Moth at Witchampton, Dorset, in May 2011.
Orlando Rogers, 26, was killed but pilot Scott Hoyle of Broadstone, Dorset, survived.
Police said their findings would be presented to the Crown Prosecution Service for consideration.
A report from the Air Accident Investigation Branch (AAIB) included accounts from eyewitnesses who described seeing the 1930s plane "pull up into a loop and during the manoeuvre it entered a spin from which it did not recover".
The report added the manoeuvre started at 1,500ft (457m) and had "insufficient height for the pilot to recover". It also said Mr Hoyle "was not formally trained in aerobatics and had limited experience of spin recovery".
Mr Rogers, a former marine, was airlifted to Dorset County Hospital after the crash on 15 May where he died with his mother by his side.