Richard Drax MP's estate solar farm plan faces judicial review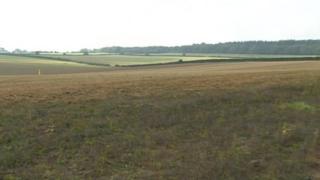 A decision to approve a 175-acre solar farm on the family estate of South Dorset MP Richard Drax faces a judicial review.
More than 112,000 panels are due to be installed by Good Energy at the Charborough Estate, near Mapperton.
The plan was approved by East Dorset District Council in November.
But, residents are unhappy about the environmental impact and campaigner Katherine Butler appealed against the decision.
'No environmental assessment'
The one-day hearing in Bristol on 1 May will scrutinise the way the decision was made.
Ms Butler, who grew up in Mapperton, said: "When we looked into it we found the developer hadn't done an environmental impact assessment which we felt on that scale was rather extraordinary.
"When something is going to be 175 acres - 110 football pitches worth of glass and metal in the middle of an area of great landscape value, of course it's going to have an important impact and a significant one."
Campaigners also feel some research in the planning application, including the screening of the farm was "inadequate".
Good Energy said the scheme would generate enough power for 6,000 homes but would be well screened and away from homes.
'Technical challenge'
The firm said: "We think Mapperton is an excellent site for a solar farm.
"The council's planning officer recommended our application for approval, and the council's planning committee approved it and it is disappointing that the process of building the solar farm is being interrupted by this claim.
"It is important to recognise that a judicial review is a challenge to the way in which a decision has been made, rather than whether the conclusion reached is right or wrong. It is concerned only with whether the right procedures have been followed."
East Dorset District Council said it would be inappropriate for it to comment ahead of the hearing, while Charlborough Estate and Mr Drax were unavailable for comment.
Opponents, including the Campaign to Protect Rural England (CPRE), have argued the undeveloped, agricultural land is the wrong location for a solar farm.