'Stolen' tortoise Tucker was hibernating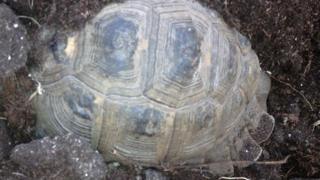 A pet tortoise which police thought had been stolen in the autumn was found to be hibernating in her owners' garden.
Dorset Police issued an appeal for information about Tucker, aged about 70, when she was believed to have been taken from a greenhouse at a house in Weymouth.
Her owners were said to have been "devastated by the loss".
Police said: "She may have gone underground into hibernation and has reappeared ready for warmer weather."