Bournemouth's Alum Chine beach 'super huts' go on sale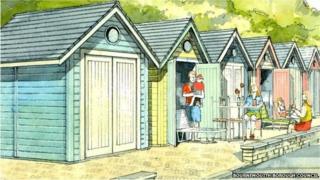 A number of so-called beach "super huts" have gone on sale ahead of them being built on Bournemouth seafront.
Construction of 18 new huts at Alum Chine, where there is a 10-year waiting list for would-be tenants, is expected to start at the end of the month.
Bournemouth Borough Council said they are larger than traditional huts and are priced at just under £40,000 on a 25-year lease.
Similar huts have already been built in the area, opposite Vesuvio restaurant.
The new huts, which will be built on the promenade, will replace existing ones which the council said have "reached the end of their life".
The work is part of the authority's long-term strategy for the seafront.
The council previously said the lifespan of the buildings was approximately 20 years, but some of those being replaced had been built 40 years ago.
The authority said the new huts could be sublet, or resold along with the remainder of the 25-year lease.