Climber swept from Swanage cliff by wave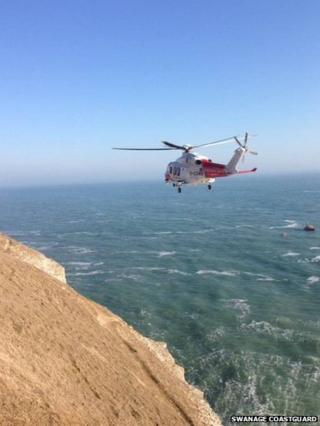 A climber had to be airlifted to hospital after being swept off a cliff ledge by a "huge wave" in Dorset, Swanage Coastguard has said.
The man, in his 20s, was rescued from an area known as Cattle Troughs, west of Anvil Point in Swanage, on Sunday afternoon.
It is thought he was about to start climbing the cliff when the wave swept him off his feet.
He was taken to Dorset County Hospital with non life-threatening injuries.
He was pulled from the water by a group of nearby climbers before rescue teams arrived.
Portland Coastguard, Swanage RNLI lifeboats and the St Albans Coastguard also assisted with the rescue.