Dorset First bus drivers accept deal in pay dispute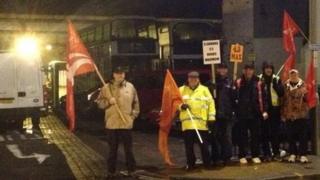 Bus drivers in Dorset have accepted a deal to end a pay dispute that had led to strike action.
Up to 60 First Hampshire and Dorset drivers held a 24 hour walk-out in January over what they claimed was a difference in pay with drivers in other regions.
The Unite union said two thirds of the drivers had accepted a 30p increase in their hourly rate to £8.80.
The bus company said it was "delighted" at the decision.
The dispute centred on a proposed pay increase that drivers in the Bridport, Portland and Weymouth areas said would leave them worse off than drivers in other areas of Dorset.
Unite regional officer Bob Lanning said there was still a "gap" as some drivers in Bournemouth earned more than £10 an hour, but the strike action had been justified.
"We'd like to have gone further but we've made quite a leap.
"The drivers were adamant they wanted to be paid closer to their counterparts around the country and this is the course they chose to take," he said.
Marc Reddy, managing director, First Hampshire, Dorset and Berkshire: "We were always open to negotiations with the union and we believe our continued discussions have helped to bring about a satisfactory resolution."