Swanage pier reopens after storm damage repair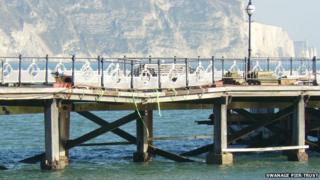 A Victorian grade II-listed pier in Dorset has been reopened following £60,000 of storm damage repairs.
Strong winds and rough seas last March left the mid-section of Swanage pier so badly damaged it was near collapse.
A restoration campaign resulted in £40,000 of Heritage Lottery Funding and £20,000 in donations from the public.
Swanage Pier Trust chair Derek Tarrant said: "We owe a huge debt of thanks to all those who helped us to get the damage repaired".
Work to the damaged section of the pier, completed in 1860, included sending divers down to replace a 14-ft (4.5-metre) long stump in the sea bed.
As part of the repair project, the trust also organised educational exhibitions, trips to schools and training for volunteers to help with the restoration work.
The 642ft (195m) pier was fully restored in 1998 after falling into disrepair in the 1960s.
Following the £1m revamp, it has been attracting more than 100,000 visitors a year.