Cpl Anne-Marie Ellement death: New evidence delays inquest conclusion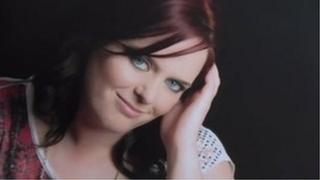 The conclusion of an inquest into the death of a military police corporal who had accused two soldiers of rape and felt bullied by colleagues, has been delayed as new evidence has emerged.
Cpl Anne-Marie Ellement, 30, from Bournemouth, was found dead at Bulford Barracks in Wiltshire in October 2011.
The inquest in Salisbury heard documents about three phones and a diary had not been disclosed.
The MoD said there had been no deliberate effort to hide documents.
The inquest heard documents which had not been revealed to the family, their legal representatives or the coroner, showed the phones and diary were found in Cpl Ellement's rooms shortly after her death.
The items have not been found and it is thought they may have been handed to Cpl Ellement's father, who has not been located.
More than 1,400 files, including 29 which were deemed relevant to the inquest by the MoD, would now be disclosed to Cpl Ellement's family for the first time, the inquest heard.
Nicholas Rheinberg, deputy coroner for Swindon and Wiltshire, said it was important to try and track down the items and adjourned the inquest until 3 March.
'So angry'
Nicholas Moss, representing the MoD, said there was "no evidence of a cover-up".
"The MoD has gone to exceptional lengths to seek to provide as fullest disclosure as possible," he said.
The undisclosed documents had been found by the army's legal team in the last few days, the hearing was told.
Speaking after the hearing, Cpl Ellement's sister, Khristina Swain, said: "I'm so angry and so upset after waiting all this time, especially a year, to get where we are, to find out we haven't had all the information and documents we actually need - I'm just absolutely devastated."
The inquest previously heard Cpl Ellement, who had been in the army for five years, had felt bullied by other soldiers after she had accused two soldiers of rape while she was drunk during a posting in Germany in 2009.
The complaint was investigated by the Royal Military Police's Special Investigations Branch but no charges were brought.
The second inquest was ordered by the High Court after Cpl's Ellement's family, supported by human rights organisation Liberty, won a judicial review.