Cpl Anne-Marie Ellement inquest: Superior officer denies Facebook bullying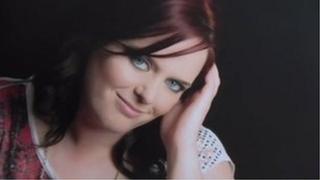 A military police officer regrets "every single day" writing a Facebook status update which may have upset a soldier later found hanged, an inquest has heard.
Cpl Anne-Marie Ellement was found dead at Bulford Barracks near Salisbury, Wiltshire, in October 2011.
She had alleged been raped by two soldiers in 2009.
Her immediate superior Staff Sgt Julian Clark denied bullying her, insisting he "liked and respected" her.
The inquest in Salisbury was told he posted an update which led to abusive comments from other users.
The barrister acting for Cpl Ellement's family said Staff Sgt Clark's post had been "intimidating, malicious and insulting behaviour".
He said the Facebook post had been about work frustrations and had not mentioned Cpl Ellement by name.
Cpl Ellement's mother, Alexandra Barritt, asked why he had "singled out" her daughter but he insisted he had a "good friendship" with her.
He said he had spoken privately to Cpl Ellement about any mistakes she made in her work and said he had not been accused of bullying in 23 years in service.
Military investigators chose not to prosecute the two soldiers Cpl Ellement accused of raping her in Germany in 2009.
An inquest in March 2012 recorded a verdict of suicide, but last year the High Court ordered a new inquest.
During the inquest, her family have claimed the 30 year old, from Bournemouth, had felt bullied by colleagues and as though she had no-one to turn to.
The coroner is expected to deliver his conclusions on Monday.