Bournemouth care home disputed sale price 'was fair'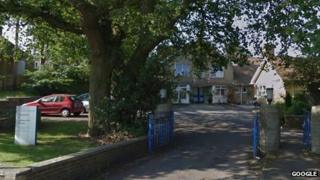 The sale of a care home and land in Bournemouth can go ahead, following a council dispute about its value.
Councillors had called in the decision to sell Leybourne House for £360,000, fearing it had been priced too cheaply.
Lib Dem Carol Ainge and Independent Sue Levell said nearby properties with similar price tags were a fraction of the size, but a scrutiny panel ruled the sale did not need to be reviewed.
The site is to be redeveloped, subject to permission, to accommodate 24 flats.
Ms Ainge and Ms Levell used the example of a nearby semi-detached house that was sold for £310,000, arguing that the 40-bedroom Leybourne House and its much larger grounds had been massively undervalued.
The council scrutiny panel found the council had complied with the rules and the sale could go ahead.
Resources councillor John Beesley, Conservative, said their decision would deliver 24 affordable homes whose tenants could be nominated by the local authority.
Mr Beesley added that the sale "would generate a capital receipt" and protect "substantial funding from the HCA (Homes and Communities Agency) for Bournemouth".
"Best value would not be served by obtaining a higher price if this delivered no affordable housing," he said.
Leybourne House is to be sold to Bournemouth Churches Housing Association, the council said.