Poole Harbour 'car park island' plan on hold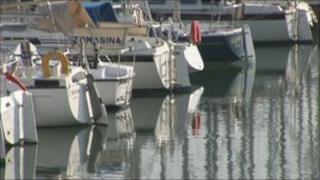 A plan to build a marina and 200 parking spaces on an island in Poole Harbour has been put on hold.
The Crown Estate, which owns the sea bed around the harbour, had favoured a scheme for a 600-berth marina and 200 car parking spaces by marina group MDL.
It said it would not appoint a preferred bidder for a lease of the sea bed and would not pursue MDL's plan.
Marina Developments Ltd (MDL) said it was "disappointed and surprised" by the decision.
The Crown Estate added that it might still seek to go ahead with the development in the future.
An MDL spokesman said the firm was now seeking clarification from the Crown Estate on why the decision was taken and would consider its options.
Plan 'a disaster'
A spokesman said: "This consideration will be guided, as were MDL's original proposals, by a focus on delivering what is best for Poole Harbour, the people of Poole and MDL as a major local business and employer."
Campaigners against the proposal had called it a "disaster" and said the environmental impact of it had been ignored.
They claimed the car park would have been visible from the shore and National Trust-owned Brownsea Island.
They also objected to a new marina being close to protected wetland and sites of special scientific interest.
Neil Jacobson, the Crown Estate's portfolio manager for the South of England, said: "We believe, along with many people in Poole, that a new marina development could be of benefit to the local area.
"Should appropriate proposals emerge in the future, we would be keen to explore opening a fresh leasing process in order to facilitate future development."
He said the decision followed an initial evaluation last year in which MDL emerged as the highest-scoring bidder against a range of criteria including potential financial return, environmental mitigation and access to the site.
MDL was then asked to provide information on a number of issues to inform the Crown Estate's decision.