Charminster listed flood bridge faces demolition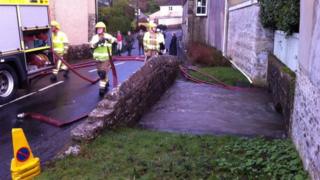 A grade II listed bridge blamed for the flooding of a church in Dorset could be demolished and replaced next year, the Environment Agency has said.
Water from the River Cerne backs up behind the low arches of the 16th century bridge in Charminster, flooding St Mary the Virgin church and homes.
The Environment Agency and Dorset County Council said they would submit plans to English Heritage before June.
English Heritage said every alternative option needed to be explored.
Any proposals affecting the bridge would be subject to planning permission but the Environment Agency said it was confident it could make the case to replace it.
If approved, it said building work could be completed by the autumn of 2015.
Environment Agency project manager Nigel Bennetts said efforts would be made to use stones from the original bridge in the new structure.
Mr Bennetts said: "We were going ahead with a low wall along the bank of the river which would have contained the river however the flood in January has given us some new useful data and we are now convinced the only solution is to replace with bridge with wider arches.
"We have a solution, we have a contribution promise to us from the county council so all we need to do is come up with a design, come up with the planning permission and go ahead and get cracking on construction next year."
Charminster resident Gwen Yarker said: "It was really only in the January flooding this year when houses were very badly flooded again that the Environment Agency were able to demonstrate once and for all that this is the only solution - to remove the three arches which are causing a blockage and basically damming the river.
"A lot of the other houses in the village that are being flooded are Grade II-listed or, as in the case of the church, Grade I-listed, so why are they being destroyed to save a Grade II-listed bridge which was rebuilt in the 19th century?"
West Dorset MP Oliver Letwin chaired a meeting on Friday with residents, the Environment Agency, English Heritage and the county council.
He said: "What we are trying to do is get a pragmatic, sensible, common-sense solution and I think now we are heading towards one, which will involve raising the bridge, allowing the water through and taking a number of other steps to diminish the flooding."
Records show the stone bridge was rebuilt in the early 19th Century and at least one side of it was rebuilt in 1933.