UK storm: Strong winds and rain batter Dorset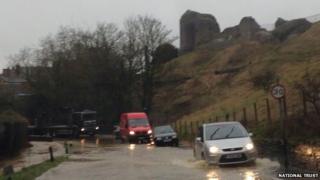 Residents in Bridport, Mudeford and Portland have been evacuated as heavy rain and strong winds batter Dorset.
The National Coastwatch Institution (NCI) for Lyme Bay said its lookout at Burton Bradstock had been "blown away" on Friday night.
Several roads remain closed and trains and buses face disruption.
Several flood warnings were issued for the county, including at Christchurch Harbour, Chiswell and Dorchester.
NCI spokesman John Rowlands said of the lookout: "We're out of a job, all our equipment was in there too like marine radios, binoculars, a telescope."
BBC weather presenter Alexis Green said the county had been one of the "wettest spots" on Friday, after 31mm (1.2 inches) of rain fell in 12 hours.
Up to 10mm (0.4 inches) of rainfall is forecast for Sunday in Dorchester, the Environment Agency said.
An amber warning for wind and a yellow warning for rain have been issued by the Met Office for the South West.
Several roads have been blocked by flooding and fallen trees.
The National Trust has had to shut its 1,000-year-old Corfe Castle as a result of flooding near Castle View.
Several train services have been disrupted, with South West Trains reporting services between Brockenhurst and Lymington Pier are suspended because of flooding.