Dorset police and fire council tax rise 'unhelpful'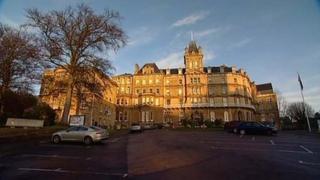 A council leader has described council tax precept rises by Dorset's police and fire service as "unhelpful", as the authority plans to freeze bills.
John Beesley said Bournemouth's cabinet was being asked to agree a 0.4% cut in its share of council tax to ensure residents' bills would not increase.
Dorset's fire precept is to increase by 1.93%. The police bill will rise 1.96%.
The Fire Brigades Union and the police and crime commissioner have accused councillors of being short-sighted.
The fire precept increase is equivalent to £1.26 a year for a band D property, while the police increase is equivalent to £3.60.
The government offers a grant to authorities that freeze their council tax.
'Intense political lobbying'
Mr Beesley, leader of the Conservative-controlled council, said: "It is unhelpful to local people that Dorset Police and Dorset Fire Authority have chosen to raise their precepts for the next financial year.
"Despite this, I am pleased that we have been able to plan a budget that means Bournemouth residents see no rise at all in their overall council tax bills during 2014/15, as our proposal is to reduce Bournemouth council's part of the precept by a further 0.4%."
Bournemouth Conservative councillors sitting on the police and crime panel objected last week after failing to block a rise in the police precept.
Dorset Police and Crime Commissioner Martyn Underhill said: "I received intense political lobbying by Bournemouth politicians, intent on receiving my support to help them achieve their promise not to raise the council tax in Bournemouth before the next local elections.
"To pledge a four-year zero rise in council tax during a deep recession and unprecedented cuts to public spending is naive at best, and foolish at worst."
Karen Adams, brigade secretary of the Dorset Fire Brigades Union, said: "It really makes me angry that they [councillors] should be so short-sighted. People are not upset about paying an extra 2p a week, this is about councillors wanting to win an election."