Dorset gravel plan for forest gets over 200 objections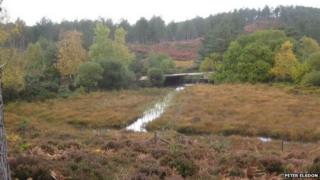 More than 200 people have objected to plans to extract seven million tonnes of gravel and sand from Wareham Forest in Gore Heath, Dorset.
The proposed site is close to heathland habitat which is home to rare sand lizards and ground-nesting birds.
It is also popular with walkers, dog-walkers, horse-riders and cyclists.
Mike Garrity of Dorset County Council said the authority had to meet targets on sand and gravel extraction, but said the consultation was at an early stage.
'Complete sadness'
Dorset resident Martin Dolan said: "I can't begin express my complete sadness at the thought of all the fantastic scenery that would be put to waste... what hope has any wildlife got of a sustainable future if these proposals go ahead?"
Others objected over fears the habitats of buzzards, nightjars, Dartford warblers and wood larks would be disturbed.
A number of sites have been identified in the consultation which are of interest to landowners and quarry and mineral operators across Dorset for extraction of sand, gravel, Purbeck and Portland stone and ball clay.
The council is consulting on all sites before narrowing down the proposed sites based on criteria such as impacts on habitat, highways and hydrology.
Mr Garrity said the Wareham Forest site was the most "challenging" of all the sites due to its proximity to protected heathland, although the site is currently used as a conifer forest.
He said the council had advertised the consultation widely in the local newspaper press and put up notices in libraries and public buildings, despite criticisms that it had not been widely publicised.
The consultation formally ends at 16:00 GMT on 13 February but any comments submitted before the end of the week will also be considered.