Dorset Police and Crime Panel 'toothless tiger'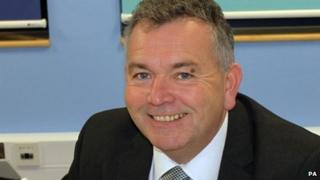 A Dorset Police and Crime Panel member has said the group is a "toothless tiger" after a rise in the force's council tax precept was approved.
Police and Crime Commissioner (PCC) Martyn Underhill approved the 1.96% increase last week, despite nine of the 17-strong panel voting against it.
The rise equates to an extra £3.60 a year for band D council tax payers.
Panel member David Smith, a central Bournemouth Conservative councillor said: "What are we there for?"
"The word 'toothless tiger' comes to mind," he added
"We tell him we don't like it through a majority system, which all councils and governments work under, and it still goes through."
Mr Underhill said some members were trying to make it an issue of local party politics.
Rules state the PCC's proposal should be scrutinised by the panel but it can only be vetoed if two-thirds of members agree, meaning 12 votes were needed to block the rise.
Mr Underhill, a former police chief who stood as an independent in the PCC elections, beat Conservative candidate Nick King in the 2012 poll.
He said: "I'm not going to reconsider this - I am planning a medium-term financial strategy until 2018 and that strategy involves losing another £9m in cuts. I've been put in this position by parliament."
'Political influence'
Mr Underhill said the reason he stood for election was to "keep politics out of policing".
"I will make decisions based on fact, knowledge, understanding of policing and the views of the public, not on political influence or lobbying," he said.
Conservative MP for Bournemouth East, Tobias Ellwood, said he was concerned by the rules and had raised the issue with the Home Secretary.
He said: "A police and crime commissioner has the powers to ignore the advice of the panel but it's therefore for the wider elected personnel to look at this in more detail and to explain to the public what is actually going on."
A Home Office spokesman said: "Police and crime panels have the powers set out in legislation to enable them to effectively scrutinise the actions and decisions of police and crime commissioners."
The Police and Crime Panel is made up of two independent members and 15 councillors, 11 of which are Conservative, two are Liberal Democrat, one Labour and one independent.